Main Street Diary:
Smallville USA
by Sandy Sorlien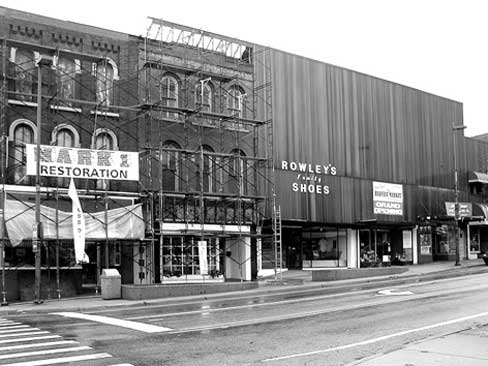 A hopeful picture: Main Street of Niles, Michigan, November 2003
March 2003:
I start planning a three-week road trip, from Pennsylvania to Texas and back. I write to the Traditional Architecture listserv to ask for recommendations for "handsome but distressed" Main Streets to photograph. One of the TradArchers "outs" me to a National Main Street listserv. I am quickly flooded with over fifty e-mails from eager Main Street managers, most from states on my route but some trying to get me to detour to Montana or California. Some are bribing me to come, offering lodging, meals, and press coverage. They send me images and brochures. I am touched by their pride in their towns. I want to go to all of them, but I can't.
January 2004:
I decide to create a description of a composite small-town American Main Street, cobbled together from the exhortations of the Main Street managers. I think it is a hopeful picture.
---
Welcome to Smallville
This is a great small town with just the kind of downtown area you're looking to photograph. We had a mineral water boom 100 years ago, and there are the bones of a truly wonderful place that is still wonderful but in a more modest way. 1 Smallville has a beautiful authentic 1890's Main Street with a barbershop where there is no phone -- drop in appointments only -- historic churches, city hall, courthouse; and we're the mural capital of the state. 2 Also, we have a historic restaurant (Berry's) where people have traveled from near and far for many years and the walls are covered with historic photographs of local origin. 3
I would put Smallville's old town hardware store, Girard's, up against even the most modern home improvement center. Locals will tell you of the store, "If they don't have it, you don't need it". You can get everything from bait to lunch, building supplies to canning supplies. It is a wonderful store. You can even get replacements for old doorknobs and fixtures. 4 We also have a 1930's Onion Shed that was used as a shipping point by the railroad in the 30s and 40s when we were the Onion Capital of the state. The Onion Shed, located on Main Street, has been restored and is now used as an outdoor meeting facility. 5
Smallville was spared in the Civil War, so we have many intact buildings. Our economy is not in the best shape, so we have quite a few empty buildings that are crying for attention. Many are being renovated and our downtown still thrives and is the heart of our city. 6 At its center is our 100 year old courthouse that had its interior glass dome restored last fall for the 100 year celebration. We also have a Carnegie Library that is used as a law office and several other historical buildings in our downtown. Memorial School is a historic elementary school in our Main Street district. We have seen much activity downtown in the past year. We've been terribly distressed, but seem to be moving forward in spite of the economy. 7
There's a business in downtown Smallville located in what used to be the old, old post office and bank building. The family who has this tea room/bookstore/music publishing house/collectibles/used clothing, etc., business also live in it! It is really neat. We have mostly what our state architect calls the prairie-style buildings. We have 3 WPA buildings, two are used/owned by the City and the third was the old school that has been turned into a state-of-the-art library. 8 It's like stepping back in time, except for the heavy traffic around the courthouse which is not pedestrian friendly! Two or three of the buildings have removed their "new facades" to reveal the original buildings but we still have ten or so that need their facades removed and several could use a good coat of paint - but we're working on it. 9
Smallville has a beautiful area lined by magnificent Chinese Pistachio trees and turn of the century brick buildings that house many quaint shops. We are currently working on a plan to turn our State Street into a pedestrian friendly two-lane road with widened sidewalks and other improved streetscapes. 10 Our great hope for the future is a Saturday market that has just opened. It has already started to bring life back to our historic Main Street and our old commercial heart of town, which is on the National Register of Historic Places. 11
We have plenty of interesting stuff that needs care and saving. We have one building that someone should be able to buy for about $500. It's a contributing building in the historic district. If no one buys it, it will eventually fall in. The native stone used in construction here makes for some nice textures. Our old depot is Mission Style and originally was plastered with plaster mined here. 12
By now you may wish you'd not given your address to the Main Street bunch. I get carried away, forgive me. Trust me that we have many scenes worth capturing on film or in pixels. If you come here, I suggest you lodge in a nice little tourist cabin at Goodlett, just 8 miles to the west. It's Ole Towne Cotton Gin RV Park on the Web. 13
---
1 Marlin, Texas
2 Versailles, Kentucky
3 Norwalk, Ohio
4 Freeport, Texas
5 Farmersville, Texas
6 Natchez, Mississippi
7 Taylorville, Illinois
8 Broken Bow, Oklahoma
9 Weatherford, Texas
10 Ukiah, California
11, 12, 13 Quanah, Texas


Links to Sandy's books:
Fifty Houses
Imagining Antarctica

---
contact: sandysorlien@comcast.net
---
Center for Applied Transect Studies
---
Sandy's Blog:
STREET TRIP
---
Sandy's Business:
SMARTCODE LOCAL
---
All photographs
©2006 Sandy Sorlien.